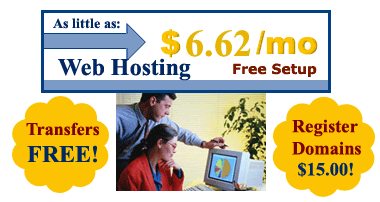 Welcome to Lightning Web Hosts, your affordable web hosting solution. We provide web hosting to fit any budget, plus web design and publishing, domain name registration and internet consulting at some of the most reasonable prices on the net. Our web hosting packages are as low as $6.62 per month (paid yearly). Paying for a year in advance is like having two month's hosting for FREE! Web hosting accounts include Front Page extensions, POP e-mail accounts, autoresponders, FTP, free cgi scripts, mySQL, PHP & SSL.

You can register a new domain name for only $15.00 a year or you can transfer your current domain for FREE. Give us a try.... Allow us to supply the best web hosting plan for you. If you choose to pay by the year we will give you two months of hosting for FREE!

*Our Policy: We do not register adult domain names or host adult web sites.
Our Web Hosting Packages:

| | | |
| --- | --- | --- |
| FEATURES | | |
| Paid by Year (2 mo. Free): | $79.50 | $199.50 |
| Setup Fee: | Waved | Waved |
| Hard Disk Storage: | 20 MB | 75 MG |
| Monthly Transfer: | 500 MB | 1000 MB |
| Pop 3 E-Mail Accounts: | 5 | 50 |
| | | |
If you need web design help, contact our sister company, Lightning Web Designs

© 2002-2007 This site designed by: Lightning Web Designs - All rights reserved.
LightLinks2000.com Christian Directory is a growing Web portal where you can find great Christian content, links to Christian resources, 16 different categories of shareware and freeware, a world-wide Christian Business and Church Directory and much more.



Home | Web Hosting Info | Domain Name Lookup | Web Hosting Features |
Order Hosting | E-Commerce Info | Web Design Info | FAQ |
Usage Policy | Control Panel Instructions | Help